This is Lakeside Organic Gardens.
Last Thursday, I had a spontaneous opportunity to meet with Lakeside Organic Gardens up in Watsonville. Lakeside is known as the LARGEST small farm that is solely certified organic. What I mean by that is they are a big farm but use small farming practices. Often times, larger organic farmers (not going to name names) own separate farms where they practice non-organic, conventional agriculture. Owing both organic and conventional farms makes you question their intention for the overall picture in the ag. world. We appreciate Lakeside because it is strictly certified organic, but that's not the only thing that makes them stand out..
When Jason and I started our farm boxes 5 years ago, we would have never considered sourcing produce from a large farm like Lakeside. We really didn't need the supply and our priority was with the smaller growers. However, with recent growth in our business, it has been hard fulfilling the demand for boxes. Sometimes, the small farmers we work with can't meet our demand and during the winter, production is even more difficult. Because I grew up on a small farm, I was always a little biased about huge organic ag. When I got invited to come tour Lakeside, I'll admit, I was already making assumptions. However, it was not at all what I had imagined! To put it plainly, Lakeside is fricken' awesome and they are doing AMAZING things with organic agriculture!
I met with a woman who had been with Lakeside for only 9 months but she was thrilled to be working for them. I told her I wanted to see the romanesco cauliflower field since we were putting their romanesco in our boxes this week. On the short drive to the romanesco field, she was explaining all of the rad things Lakeside does. What really stood out to me was when she explained how they swap fields with organic strawberry neighbors to create extremely rich soil. Since Lakeside does not grow berries and many of their neighbors do, they literally swap fields for about 6 months so the crops can benefit from each other. Strawberries benefit from the nitrogen in the lettuces and the lettuce benefits from nutrients in the berries. On their own farm, they always plant a cover crop to build their soil (picture below.)
When we got to the field I was blown away by how beautiful it was. Perfectly planted breads, hardly any weeds, and sweet alyssum (a beneficial flower) planted every 20 rows or so to attract bees and healthy bugs. We walked the field and found the heads of cauliflower they would soon harvest for your boxes. Juan showed us how he harvests the heads and chops off the excess leaves. He told us the struggles of growing romanesco during the winter and that sometimes you will find a little purple coloring on the head. Don't worry folks, that is just frost bite and it will not harm you. Your romanesco is still packed with nutrients and will be just as tasty. While we were finishing up the romanesco field, I asked about the awesome Brussels sprouts we've been getting from them all winter long. He explained that the Brussels sprouts grow in Imperial Valley because the low temperatures keep the aphids away…and just to point out, it is SO SO SO hard to find aphid free Brussels sprouts! That's the main reason why we've only put them in our farm boxes once in the last SIX YEARS. When I asked Juan about controlling aphids, he says they will occasionally spray a mixture of soap and water which will usually knock them down.
On top of a killer crop rotation, cover crop cycle, and beneficial plants, Lakeside always spreads compost and they have an awesome weeding protocol in place. Their warehouse runs 50% off solar panels and they have switched to only post-recycled plastic boxes. I was completely blown away by how legit these guys were and everyone that I met there really enjoyed their jobs. The owner, Dick, started small and although his business has grown significantly, his practices and values stayed the same. They farm on LOTS of small plots and that is why they are called the largest small farm in the country. I'm super stoked to be working with such a rad farm and I hope you enjoyed me geeking out over this weird farming stuff.
- Katie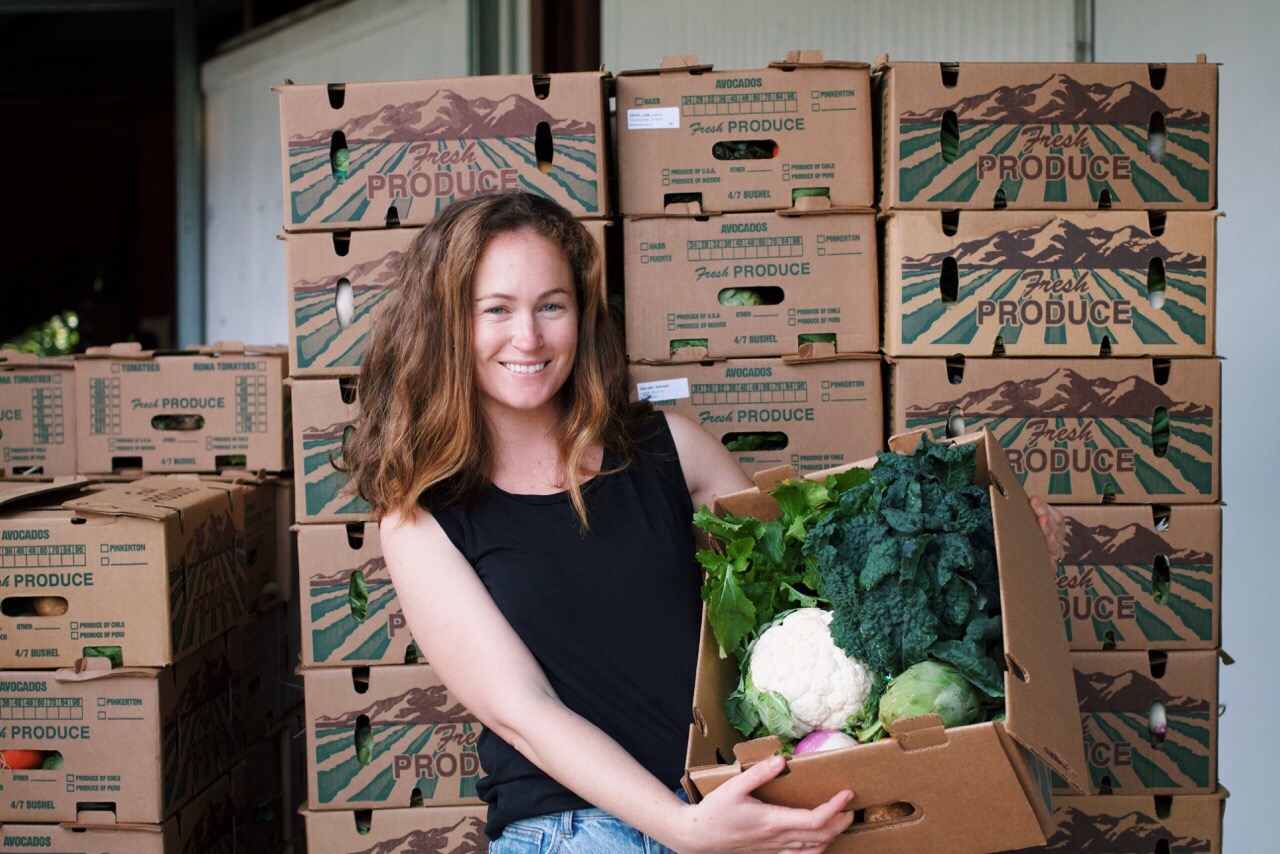 Thank you all for voting for us!
Unfortunately we did not make the top 100 lol! But it's all good, the other winners are doing GREAT things also. Maybe LA will be ready for us in a year or so ;)
I just wanted to put it out there.
TAG us in your posts! We want to see what YOU make!